Every Friday we have a new Week in Rap Shout Out Contest. Last Friday, we asked you to create a found poem using headlines from previous Weeks in Rap. Found poems take random lines or phrases from billboards, graffiti, news headlines or wherever and reorder them in the format of a poem (rhyming or not). Our winning entry comes from DeKalb School of the Arts, Georgia. It is a sobering look at some of our current events.
The Violence and the Terror and the Threats of Revolution
The Perfect Memorial For 7 Billion People
Fallen From a Cliff
Death in Nuclear Disaster
The World Keeps on Remembering as Earthquakes Rattle Conflict Laden Bones
And Back is the Madness
The Hunger for Tragedy
Chaos Beneath the Surface
And All Life Left Behind

What Price Do We Pay for "Freedom"?
Congratulations, DeKalb School of the Arts!
And now for something completely different, another entry we enjoyed: (from Oscar Smith Middle School, Virginia)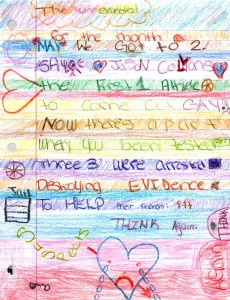 Finally, we also liked these entries from Granite Falls Middle School, North Carolina:
Students step up racial divides
Dancing the night away it provides.
Dropped – the Boston bomb and preschool finances?
Will this be their last chance?
Obama pitches
Mexico immigration overhaul with President Neito
Obama pushes
To close Gitmo
US calls for amnesty
In a North Korea pardon.
US National spelling bee
Adds vocabulary
Winds spur wildfires
That's the fault of high temperatures.
A factory collapses amidst flames
And hundreds of lives are changed.
Thank you so much to everyone who entered this week! Don't forget to enter this Friday's Week In Rap Shout Out Contest for a chance to win a shout out next Friday.