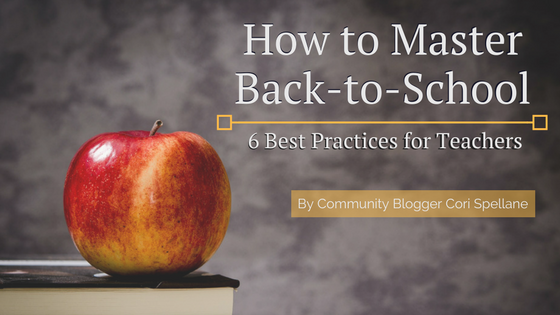 How to Master Back-to-School
It's that time of year again! Stores are filled with school supplies, eager children and even more eager parents. As teachers, we are shopping for bargains, and are fastidiously decorating our classrooms. The new school is about to begin, and although your desks may be in neat rows and posters of cute kitties may abound, are you really ready?
Here are a few things you should do at the start of the new school year.
1. Create A Comfortable Environment
Whether you are a kindergarten teacher with a teddy bear theme or a middle school teacher who just slaps a couple posters on the walls, classroom environment plays a key role in our students' learning.
For the best results, place furniture and materials in places that contribute to the classroom's flow and minimize distractions or interruptions. Consider flexible seating options like stools, floor mats or pillows; for many students, these seating options will increase production.
Lighting is another factor. If natural lighting isn't a possibility, inexpensive lamps can help decrease glare. These may seem like small considerations to make, but since you will be spending long hours in this classroom, you and your students will reap the benefits.
2. Set Solid Expectations
From the very first moment of school, your students are aware of the expectations you willingly, or unwillingly, establish. Start early and establish your expectations for classroom management and learning behaviors. Here are two types of expectations to start with: 
Pet peeves. If you can't stand students who sharpen their pencils while you are speaking, then start by teaching new students your procedures for sharpening a pencil. 
Academic goals. Try a goal-writing activity in which students write a letter to themselves; then at the end of the year, you can redistribute these letters and have students reflect.
Certainly, if you spend the time setting your expectations at the beginning of the year, you will spend less time dealing with interruptions as time goes on.
3. Build Relationships With Your Students
The great educator Madeline Hunter once said, "Kids don't care how much you know until they know how much you care." Your students will be far more interested in learning from you if they know that you are interested in them. Spend some time each day making connections with kids and getting to know them. When you ask about a favorite pet or notice a new pair of shoes, you're communicating that you recognize them as human and not just a sponge or worker bee.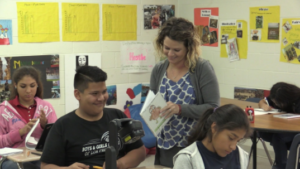 Kids thrive on structure! By establishing routines, you set their swirling minds at ease.
Having an activity for students to do right when they come into your classroom will help them settle and give you time to take attendance or complete other necessary tasks.
Post an agenda in the same location daily. You can include homework assignments, special notes or changes, as well as daily objectives and learning expectations. You will quickly find that students immediately check the agenda to see what is in store for them today.
It's a great technique to include a fun activity or video somewhere on the list to give students something to look forward to. Flocabulary is a terrific video resource to introduce concepts, and most kids will be more than willing to get through some seat-work if they know that they are going to get a four-minute music video. 
5. Collaborating with Coworkers
Remember you are not alone! Although you may be the only adult in the room for the majority of your day, it is essential that you collaborate with your colleagues. Talk to them about what they are doing and why they are doing it. Get to know people that don't teach the same thing as you. Some of the best conversations happen when teachers of different areas reach out to each other and encourage cross content collaboration. 
Social media is another way that teachers can share ideas. Grow your PLN (professional learning network) through Twitter by joining #EdChats. These are question and answer sessions where educators can share ideas and views on specific topics. Not sure where to start?
Check out this article that highlights various Twitter chats geared towards educators. Try to attend an EdCamp, or a teacher-led "nonconference." They are popping up all over the nation. For those of you in the Texas Rio Grande Valley area, we are hosting EdCampRGV in Los Fresnos on September 30.
You know what they say, there's an app for that. Apps for education are everywhere and are mostly free. I like to do some app smashing in my classroom, where we will use multiple apps and platforms to get the desired result or practice learning in different ways. Here are some of my favorites: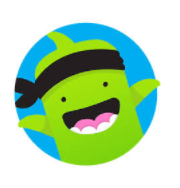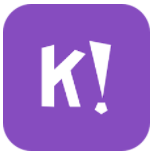 You may recognize it as Ellen's Heads Up game. This one allows you to build your own decks. It works great when reviewing vocabulary because the kids have to define and describe the words.
My students love that they can access all the music and activities from their own devices. I often find them reviewing the music videos on their lunch breaks. Try a Flocabulary trial to see how the app works. The app will be free during the trial period (up to 45 days)! 
This one is for behavior management and helps you connect safely with parents and students. Each student gets a cute monster avatar, which makes it seem elementary but my middle schoolers love it.
Gamify your classroom with this app that helps you build quizzes and surveys that your students will rush to answer.  
Finally, relax and smile; you've got this! Hopefully, you were able to rest and reflect over the summer, and are now returning to your classroom batteries charged and full of fresh ideas. By following the simple suggestions mentioned above you are already on the right track to having a fantastic school year.
It will be 2018 before you know it, and you will be left wondering where the first semester has gone.