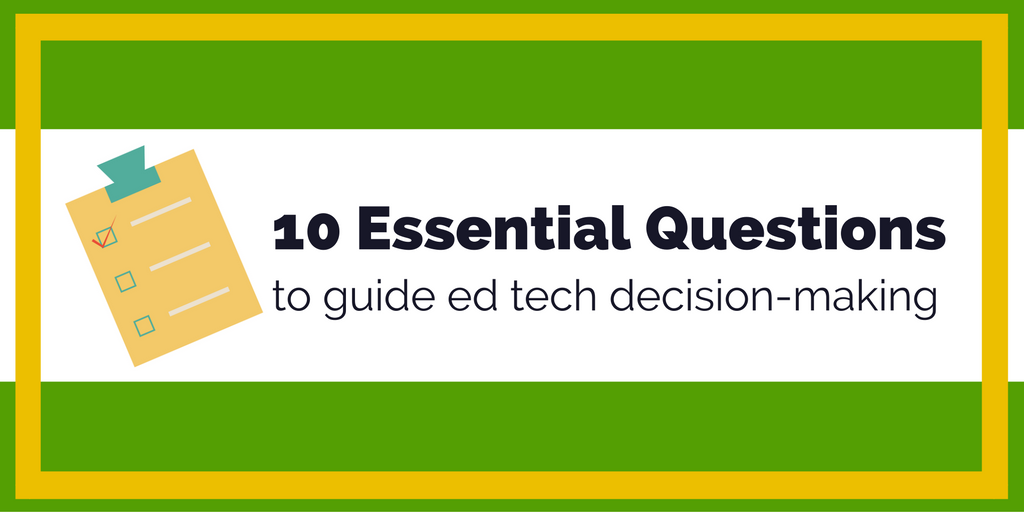 10 Essential Questions to Guide EdTech Decision-Making
The world of ed tech is a crazy one—it seems like every week there's a new tool (or Pokemon?) to try. With so much noise to wade through, funding to use and budgetary deadlines to meet, it's no wonder many schools underuse an alarming percentage of ed tech tools they purchase, resulting in wasted funds and precious teaching time.
How can one make sense of the barrage of techie services out there? We've compiled an ed tech due diligence checklist to help. Here are ten questions to ask when evaluating ed tech tools for your school (with input from our friends in the #EdTechBridge community):
Is the service platform/device agnostic?
Schools around the country have unique technological needs. Some have 1:1 Chromebooks and iPad carts, while others might only have a handful of clunky computers.
Products that are device agnostic—meaning they will work on any browser, computer, mobile device, etc.—are typically easier to adopt at school and home (where technology and internet speeds are even more variable).
Is student data and privacy protected?
With data breaches ever more commonplace, it's crucial that your students' information is protected. Not sure how to vet a company's stance on data security? Take a look at their privacy policy. (Can't easily find it? That might be a red flag.) There may be some legalese, but it's a good sign if the company tries to make it as digestible as possible.
Another helpful resource is the Student Privacy Pledge, which over 200 ed tech companies have signed declaring their focus on ensuring secure and responsible use of student information.
Is the product engaging, meaningful + fun?
With so many other things to consider when evaluated ed tech, it can be easy to lose sight of a simple matter: Will your students love it? Will they want to use it?
Getting students involved with a program pilot is a great way to determine their interest if you were to purchase it. If students aren't excited about it or it feels more of a burden to use it on a daily or weekly basis, it may be worth giving it a pass.
Does it have an intuitive user experience?
Ease of use is is a big part of teachers and students successfully using ed tech. Steep learning curves means more time spent with users figuring out how to use it and less time learning from or with it.
A3: UI / UX for sure! User experience is so important or we won't return … #justafact #edtechbridge
— Steven Isaacs (@mr_isaacs) August 31, 2016
How does it integrate with other platforms?
In a similar vein, it's worth evaluating if the product plays nicely with other tools your school or district already uses. Does it offer an integration with your LMS? Are single sign-on options available to easily create student accounts?
The better a product integrates with your school's current infrastructure, the more seamless teaching experience it will provide.
Is the product easy to implement?
Many schools face the challenge of onboarding teachers and staff with new technology after making a purchase. Sometimes they're even left in the dark with no resources or lackluster help from the vendor. Yikes!
Before purchasing, see what support resources are available from the get-go. Do they have a searchable FAQ section? What about video tutorials? Are there scalable, on-demand training options to support teachers on an as-needed basis?
Is it usable out of the box?
All of these questions lead to a larger one: can teachers and students log in and get started within a reasonable amount of time, with little to no issues?
If a product has a lengthy setup and takes ages to walk through in the demo phase, imagine how cumbersome it would be in the classroom.
A3: Something that doesn't take ages to learn! I want to be able to throw it into my classroom immediately! #edtechbridge
— Solender Physics (@SolenderPhysics) August 24, 2016
Does the company employ educators?
If a product sells to educators, they should employ them, too. After all, what better way to develop, market, and sell a product than with the experience of former educators ingrained in the company? Explore a company's "About Us" page to see how educators comprise their staff.
How does the company solicit feedback?
Having educators on staff is great, but gathering feedback from users is paramount to a successful product, too. See if they have a community program or include opportunities for focus groups.
Companies that leverage expertise from students, teachers and administrators who use the product further shows the value they place on educators.
@NealManegold Ts on the core team is so vital! #EdTechBridge Further, meeting with Ts regularly to fine tune product is key.

— Garrett.Z – PBJGames (@PBJellyGames) August 31, 2016
Is there a product success plan?
You've made it through the list, and the ed tech you're evaluating ticks off all the boxes. Hooray! Only one question remains:
Will it be obvious at the end of the year if you got the expected ROI?
While working with the company during a trial period, see if they offer clearly articulated, easy-to-measure success metrics so you'll know you'll have the support to get the best bang for your buck.
What questions would you add to this list? Give us a shout on Twitter or leave a message in the comments below.
Checklist by Chameleon Design from the Noun Project