In a recent edition of The Week in Rap, we covered research findings on how much fast food U.S. kids and teens eat, so for the Shout-Out Contest, we asked students to design their own survey, predict its outcome, and then summarize its results. Tenth grade AVID students at Fullerton Union High School took the challenge to the next level by surveying 2,000 of their classmates. Here's what they did to win last week's shout-out…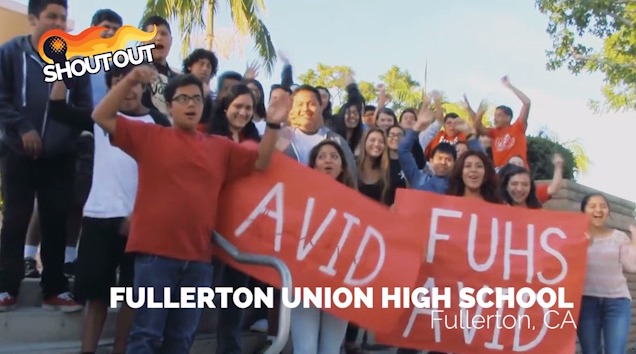 Every Friday, AVID Coordinator Mr. Hebert and his students watch The Week in Rap, using the fill-in-the-blank exercises to practice test-taking and note-taking, and later collaborate as they work with a partner to revise their work. When students saw the survey challenge, they were itching for a shout-out, and felt up to the task. They spent class time that Friday brainstorming a wide range of a questions they might ask their peers in a survey. They saw a common thread emerge – they were interested in time management and how students spend their time after school. Mr Hebert immediately saw the value in exploring this topic. "It is something we as educators and administrators could use, and time management is a theme we discuss often in AVID." The students constructed a five-question, multiple choice survey to find out, on an average school day, how much time their peers spent on:
social media
homework and studying
enjoying media entertainment
doing physical activity
sleeping
The class wanted to reach as many students at their school as possible, and brought the project to the school administration, getting approval to conduct the survey widely. The following Monday, they worked together, collaborating with other teachers on campus to administer their survey to almost 2,000 students in one day! Knowing data is only useful when people can read it, the students created graphs and explained their findings in the following video:
According to Mr. Hebert, the data that students collected was sent to the entire staff, and has become a conversation starter, leading staff to consider how the findings correlate with grades and college readiness. Prior to the students' project, the school hadn't completed a comprehensive survey related to time management. They are considering making it a more frequent initiative, perhaps adding additional categories to reflect other student commitments, such as working.
Beyond conducting a successful, large-scale survey, collecting valuable data, and raising awareness about student time management at their school, students practiced other skills putting together their Shout-Out Contest entry, according to Mr. Hebert. "Projects like this give students an opportunity to practice real-world skills, like communication. They had to figure out when to meet, and determine roles and scheduling," he said. Mr. Hebert noted that many of the skills students exercised – including leadership and collaboration – are directly applicable to skills needed in the workforce. We're super impressed, Fullerton Union High School! 
Does your school want a shout-out? Find out about the next Week in Rap Shout-Out Contest challenge!