Flocabulary Beta Integration with Immersive Reader!
At Flocabulary, our mission is to empower teachers to engage all learners. With that, we are excited to continue to increase accessibility through our new integration with Microsoft's Immersive Reader! Immersive Reader provides powerful tools to support students with text accommodations, such as:
Having text read aloud to them and adjusting the speed of the voice

Adjusting text size, font, and color

Translating words in a text or an entire block of text into over 50 languages

Labeling the parts of speech

Viewing image references for words

And more!
Announcing our Immersive Reader Beta Integration
Microsoft's Immersive Reader is currently available on the Read & Respond and Quiz activities. When Immersive Reader is enabled, students can click the button visible next to each question. This will open Immersive Reader and allow students to hear the text read aloud to them.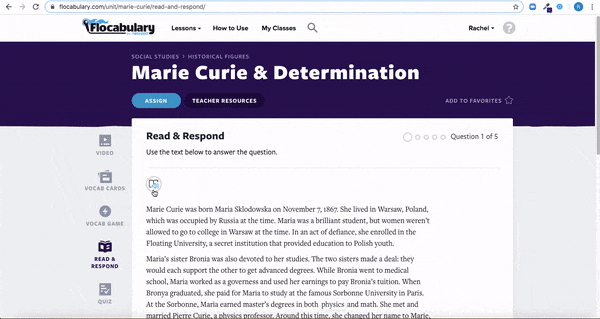 Accessibility for All Students
Using the panel on the right, students can adjust elements like the text size, font, background color and line spacing. Also, they can also translate the text into languages other than English, label the parts of speech, and view image references for words! 

Turning on Immersive Reader for Your Classes
You can enable Microsoft's Immersive Reader for an existing class in the "Manage Class" section and for new classes when creating them. Also, you can enable Immersive Reader on your own teacher account in "My Profile."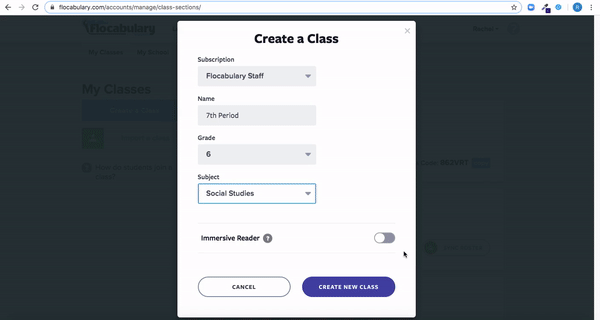 Microsoft's Immersive Reader replaces our previous text-to-speech tool. All classes that had text-to-speech enabled will automatically have Immersive Reader enabled.
We'd love to hear how you're using Immersive Reader with your students! Drop us a line at info@flocabulary.com to share your feedback.