Year in Rap Contest Winners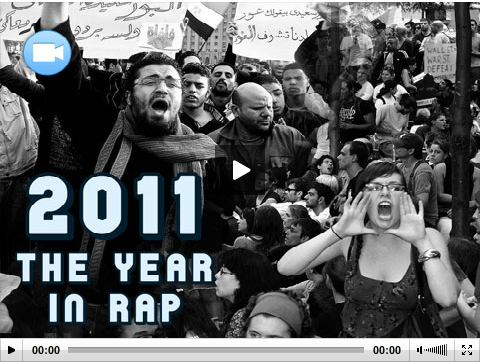 When our first ever Year in Rap student contest with The New York Times Learning Network began, we didn't have a great sense of how many people would enter. Maybe 20, 40…we would have been thrilled with 100. So we were not only floored by the number of entries–432!–but duly impressed by the quality and creativity of the student raps. Thanks to the students for entering the contest, and thanks to the teachers who made this into a class project.
While we were reading through the entries, it was clear that a few events from 2011 were very important to you; the deaths of Osama bin Laden and Steve Jobs, Occupy Wall Street, the Royal Wedding and the Japanese Tsunami factored heavily into many of the raps. And yet each treatment of these major subjects was unique and often clever. You can read all the entries here.
From the 432, we found five entries that truly stood out from the crowd (and one honorable mention). These verses succinctly yet thoroughly covered their subjects, using language and wit that jumped off the (NYTimes.com) page. There were some killer lines in the other 426, and we've included some of our favorites in this post after the winning entries.
But without further ado, the winners. For you five, put this on your college application. And shout it from the rooftops!
The Winners:

Sam T:
Two thousand and eleven what is up with the world?
Where are women's rights when Chinese families sell all their girls?
One child, that's the law, a girl can't carry a name,
So just sell her and keep trying for a Tom or a James.
And what about Afghanistan?
Holds 'em down like no one can,
Call for help and end up doing time for adultery,
But you can always get out if you and your rapist marry.
Then there's Saudi Arabia two countries to the west,
In four years the women vote but there's still so much that's left.
If women can't drive then it won't be any use,
And when do minor crimes warrant physical abuse?
So she dared to drive a car in such a male-centric nation,
She doesn't owe society her blood as compensation.
People keep on saying, 'This is progress, don't you know it,'
But two thousand and eleven doesn't seem to really show it.
Satat O:
2011, according to the Chinese, the Year of Rabbit,
Meaning it is the year of being calm, but the opposite happened.
Like we had Irene, which was a deadly scene in the west,
In Middle East we have the Navy give Bin to Death.
Strange how this happened when Barack was getting less respect,
Chances dwindle for Perry because unfortunately he forgets.
The tsunami water tyrant hits the Japanese island, sadly,
Record number of tornados in the U.S, not just in the alley.
Rebels wanted Gadaffhi's blood, and now they have their hunger eased,
The soldiers return from the war that had troubled peace.
But the world still isn't well; our economy isn't making a recovery,
The blame goes on Wall Street and overspent celebrity luxuries.
The last space shuttle lands and not another to make discoveries.
Add the digits in 2011, you get four, in Chinese that means death,
Like the casualties, Laden, Jobs, Gadhafi, the war, and the shuttle program, what's next?
Solomon VC:
In 2011 there was a major thing,
We decided to call it the Arab Spring.
Mr. Ben Ali, he ruled with an iron hand,
'Til he banned a man from runnin' a fruit stand.
He was so upset that he lit himself in flames,
The country was upset and Ali was to blame.
After Tunisia the Egyptians got inspired,
They tried to get leader Mubarak to retire.
Tarir square, it brought them all together,
Together they kicked out Mubarak forever.
In Libya it looked like Ghadafi would win,
'Til the NATO decided that they would pitch in.
They blew up the tanks of his force,
Which terribly weakened him of course.
In countries like Yemen, they still fight,
'Til they kick out their leaders and see the light.
Alexa P:
Let's take a quick moment and rap about some singers,
At the VMA's Lady Gaga was quite a winner.
But she's been hit with a lawsuit and is feeling kinda blue,
Her assistant felt like her slave and so she decided to sue.
And we can't forget about our favorite girl Adele,
According to the New York Times she's not doing so swell.
She had surgery on her vocal chords, and I almost cried when,
My best friend told me that she might not sing again.
Amy Winehouse passed away in the middle of summer,
I think you'd agree with me when I say it was a bummer.
She died at 27 which i feel is pretty young,
I'll keep listening to 'Rehab' for ya Amy, the best song you ever sung.
Lately there's a new girl coming to the stage,
Her name is Kreayshawn and she's all the rage.
She's challenging the males who have dominated the rap game,
And like all these other women, will have to earn her fame.
Gina V:
"Open my copy of the New York Times-
Suddenly I am feelin' like Busta Rhymes!
From Casey Anthony winning her case,
to Charlie Sheen and his fall from grace.
Japan suffered a major quake,
and the world reached out in its wake.
Unemployment rates continue to tower,
and the 99 percent wants their rise to power.
As Libya liberates and Egypt riots,
America watches the Kardashian's go on diets.
Winehouse goes 'Back to Black' one final time,
Gas prices are still on their climb.
Osama bin Laden is found by the troops,
NBA players locked out of their hoops.
Will and Kate finally did wed,
Now it's the time to put 2011 to bed."
And an honorable mention:
Geraldine R:
The 2012 presidential election,
Things are heated up with the Republican selection.
But Cain dropped out, told it was too risky,
Too many rumors about him getting frisky!
Now we turn our attention to the Occupy Movement,
Striving and fighting for economic improvement.
"I am the 99%" that was their slogan,
But the cops thought they were only kids causin' a commotion.
Let's take a trip to Africa, were the Arab Spring began.
Libya, Egypt, Syria, and Yemen all had a plan:
Revolt against the government, freedom's what they talk about.
After all those years, can't blame them for acting out.
And finally, the death of a great technical giant,
Started it all in his garage, the man was brilliant!
He made the Macs, the iPod, the iTouch, and more,
It makes me teary-eyed to think Steve Job ain't here anymore.
But that's not all… Don't miss these great lines from the other entries
While people were concerned with land-locked commotion,
some humans forgot what was jammin' in the ocean.
The polar ice caps are meltin' and won't stop,
so polar bears find their paths are blocked.
-Sarah B.
The desire for a revolution must have be contagious,
1% of Americans control the money? That's outrageous!
Their organization could have used some work,
Protesters got wild up in New York.
They think the government needs to straighten out priorities,
Meanwhile, occupiers tousle with authorities.
-Rachel P.
On April 29th, there was the Royal Wedding,
Paparazzi went crazy, headlines were spreading.
Between the handsome William and the beautiful Kate
One of the biggest weddings in the world to date.
From the crazy hats to the McQueen dress.
I now pronounce William and Kate Cambridge Duke and Duchess.
-Jamie C.
And Santa's comin' to town soon, so you better be nice.
With people itchin' for Christmas, like they have killa lice.
-Becky G.
Nasa also found a new planet
And its not made of granite
Almost everything including its girth is the same as Earth.
Let's not forget the royal wedding
To many newspapers it was a heading.
-Danny S. and Jason P.
Gaddafi is a cheapskate,
all he did was fabricate,
intentionally berate.
He goaded them to revolt,
everything eroded down to the last bolt.
The conclusion was a small collusion.
-Michael A.
Students accused of cheating on the SAT's, paid 3,500 to get just above the 830's.
Instead they will be charged with multiple felonies.
Occupy Wall Street, a practice of freedom rights or another Woodstock?
An organized protest sittin' on block.
-Leah and Janae
In Syria people acting like it never happened Broadway.
-Albert O.
Gadhaffi was incredibly daft,
quite the opposite of William Howard Taft.
-Stewart P.
And some words for the New Year…
I hope 2012 is a whole lot better
And it will start at Christmas when I get that new sweater.
-Desmond
Thanks for reading. What were your favorite entries? If you loved The Year in Rap, don't miss The Week in Rap. We bring you all the top news stories each Friday. Sign up for a free trial today to get started.