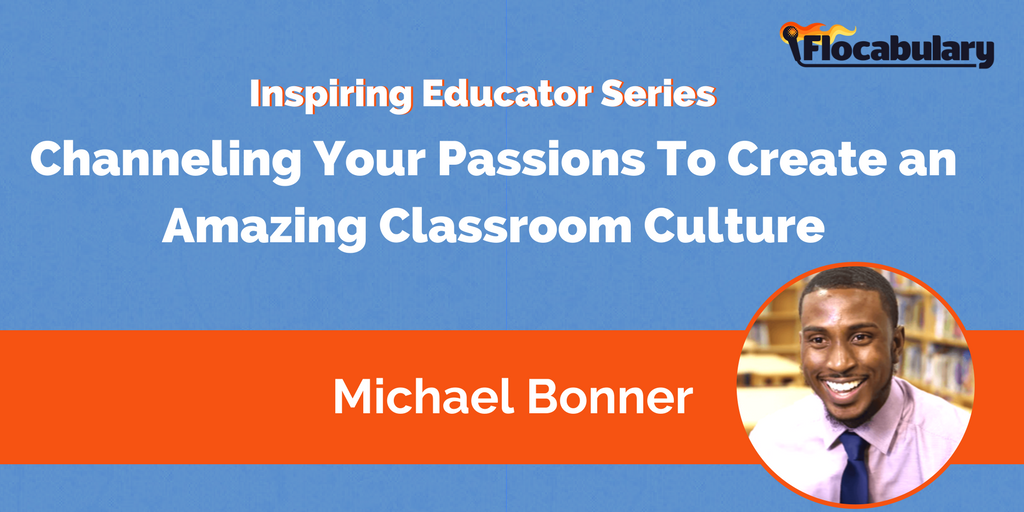 Channeling Your Passions To Create an Amazing Classroom Culture: An Interview with Michael Bonner
Perhaps you caught his story on TV: Second grade teacher Michael Bonner made the national spotlight after a video of his students performing and dancing to an original rap about reading went viral. The video was so inspiring, Ellen Degeneres even invited Michael on her show (twice!), highlighting the amazing ways he connects with students and helps them achieve. With the magical classroom culture he's created—and his video-making skills—we had to track this teacher down. We asked Michael about his biggest inspirations as an educator, what his students have taught him, and more. 
What's going on in the world of education that makes you most excited to be an educator?

Just recently White House Budget Director Mick Mulvaney stated, "No evidence free meals to kids improves their performance at school." There have been proposals to cut funds from programs that are influential in helping students have access to college (Upward Bound). There has also been an overwhelming debate on the importance of growth versus proficiency.
Throughout all of this clutter, we are losing sight of the most important factor, which are the children. We cannot forget that in the world of education we serve a multitude of students with many different backgrounds and variables that are not always seen through the common eye. Everybody does not come in [to school] on grade level or with the resources to pull from outside of the school system. We must approach every legislative bill, school improvement team, and differentiated lesson plan with the mindset that each decision directly affects OUR students.
If you could bring one person into your classroom for your students to meet, who would it be?

We have been studying different influential figures in African American history in my classroom. I was trying to do more of an in-depth study on specific figures, but the trip to the Ellen show in middle of February disrupted that idea. The individual that my kids really were amazed by was Frederick Douglass. To learn how he taught himself to read after being caught by his master showed them the importance of having the right attitude towards their education. I know they would have questions about how he grew up without a consistent parental figure and how he had to psychologically deal with the harsh reality of slavery.
Where do you find your biggest inspiration as an educator?

When you see and learn that there are private prisons who take reading scores and use them to configure a number on how many prison beds they will need. Knowing that somebody is trying to profit off of the miseducation of our children (students) produces a righteous indignation inside of me that fuels me daily. Injustice to any individual from any race is what motivates me to give my all everyday within my classroom. If that does not motivate a teacher to work harder in the classroom, they may need to rethink their career path.
What's the best piece of advice you've received as an educator?
The role of a teacher is one of the hardest jobs known to mankind. The psychological, emotional, physical burden that comes with the job is not for the light-hearted. With that being said, I made a personal decision to make my classroom my own world. I chose to actually have fun. To create a classroom culture that is not only engaging for students, but that adults actually want to attend. Since I have added this ideology into my own educational philosophy, I have learned that this attitude can be the difference between a tough school year or a fun one.
What advice would you share with other Flocabulary educators who want to bring more engagement into the classroom?
Teachers have to use what they are passionate about and infuse it into their classroom. I have become fond of photography and videography and I found a way to put that into my classroom through creating educational videos. I did not do it for national attention. I used those learning tools simply because I wanted my students to become better at the standard we are learning. Do not forget to simply have fun. Your classroom is your world in the school. Create a place that you would love to go in order to learn something!
What have your students taught you this year?

My students have taught me the importance of setting high expectations and to not back down from them. I understand how poverty can affect you. I understand how tough it can be having students in your classroom that are not on grade level. But you cannot back down from your high expectations. You must hold your ground. I have learned that when I held my ground in my classroom with what I wanted, my students went above and beyond. I love them so much for showing me that a teacher has the power to truly help make a positive impact in their educational experience.
Know an inspiring educator? Send us a tweet to share who you think should be featured on the Flocabulary blog next.