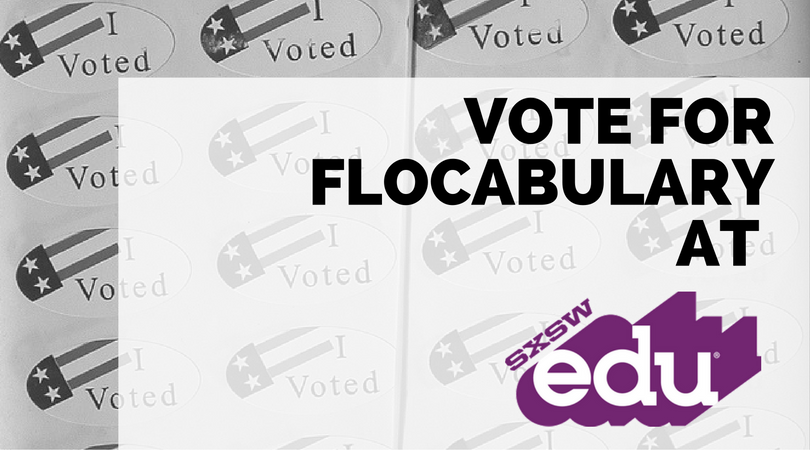 Vote for Flocabulary at SXSWedu!
This year, SXSWedu takes place in Austin, TX on March 6-9, 2017 and we're hoping to make a big splash! We've put together – or have been invited to join – a number of interesting and diverse session proposals showcasing different faces and focuses at Flocabulary. To make it to the conference, though, we need your help! Check out a list of sessions featuring members of the Flocab team below, and cast a vote for your favorites! And guess what? You can vote for as many as you like!
Ready to vote? Visit the SXSW PanelPicker and sign-in! Then use the direct links below to find our sessions and place your vote! Thanks for your support, Flocab friends. 😎
Music has proven to be a powerful teaching tool. Hip-hop, specifically, has become a global phenomenon that transcends race, class, gender, language, and more. Flocabulary has mastered the art of creating standards aligned hip-hop videos that make rigorous content more relevant for today's students. This has lead to increased student engagement and achievement. What if teachers and students could do the same? Great news – with instructional resources and Flocabulary's newest web-based feature, Lyric Lab, every student and adult can become a WRAP star – Writing Rhymes with Academic Purpose.
Attendees will learn Flocabulary's formula and write their own educational hip hop song along with Ike Ramos, a lyricist, rapper and content creator at Flocabulary, who also works with school districts on the West Coast as one of the company's district sales executives. Prior to working at Flocab, Ike was a teacher and school administrator for ten years.
Can Hip-Hop Save Us: Part II
As a follow up to the popular session "Can Hip Hop Save Us?" from SXSWedu 2016, this panel asks how vibrant youth culture and technology can be used to create meaningful and culturally relevant learning experiences for young people. What is the role of artists in shaping the way young people learn? How can artists, educators and technologists work together to build new models of learning that reflect the culture of the youth we serve? In a conversation between musicians, educators, and artists, we will explore the relationship between education, experience, entertainment, and culture.
Bootstrap vs. Raise: Fundraising in Edtech
Edtech startups face a critical decision early on: Go it alone and build their business brick by brick, or raise capital to jumpstart growth. In this interactive session, three startup founders who have achieved scale in the education market will debate the pros and cons of each approach, shedding light on the complexities of this difficult decision and the ups and downs of early-stage entrepreneurship. Topics will include how funding decisions influence everything from business model to product to company culture. Proposed speakers include:
We use opinionated products every day. Some of these "opinions" are explicit and benign, like Waze suggesting the fastest route to your destination rather than the safest, smoothest, or prettiest. Others are more surreptitious and controversial (though widely known), like "personalized" Google search results. To what extent should educational products make assumptions about the way things ought to be?
In this session, experienced edtech product leaders discuss some of the "invisible" product elements that can shape a user's experience and perspective. Proposed speakers include:
Creating A Community of Education Stakeholders
Big Idea Week started with a clear challenge: create a program that would build a bridge between Brooklyn, NY startups and a local elementary school. The program brings schools together with mentors from tech companies who work with students on a problem-solving project over the course of a week. Big Idea Week has grown since 2013, guided by the mission of connecting communities to light the imagination of students and inspiring them to be the next generation makers and doers. In 2016, 19 schools joined 72 volunteer mentors to reach nearly 1,500 students. We'll explore how Big Idea Week has become a model of project-based learning, engaging the community to teach students about STEM careers.Proposed speakers include: Alex Rappaport, CEO and Co-Founder and Landon Fears, software engineer, both at Flocabulary and Servena Narine, Magnet Resource Specialist for STEM Studies at P.S. 307 Daniel Hale Williams in Brooklyn, NY.