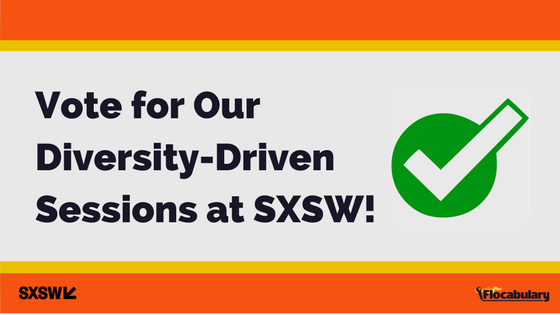 Vote for Our Diversity-Driven SXSW 2018 Session Proposals
At Flocabulary, our core goals include creating an equitable and inclusive work culture for our employees while promoting critical thinking and social and emotional learning to the students we reach. That's why we're looking to explore big, important topics at SXSW 2018 next year—topics that explore how race and diversity impact tech, music and classroom domains. At a time when the public discourse requires cultural competence, these conversations are more important than ever.
Explore our proposed sessions for SXSW 2018 below—then cast your vote for your favorite (or all three). We need your help to bring these dialogues to the SXSW stage! Click on any of the links below to vote (you'll be asked to sign in to the SXSW Panel Picker first).
Subconscious biases and cultural or community-based understandings of race begin as early as three years old. However, curriculum to combat white superiority and systemic racism often doesn't begin until high school or college, if at all. Can educators help break down the boundaries that make it difficult to talk about race? In this panel, three experts will discuss how race affects our youth and how to best engage students in dialogue about race and culture to combat ingrained racism.
Panelists
Diversity is essential in ed tech organizations. Unfortunately, women and people of color are still grossly underrepresented. Increased transparency around diversity statistics has served as a wakeup call for the tech industry, but that's not enough. Many companies and organizations are not equipped to change their recruiting, hiring and cultural practices to hire and support diverse teams. This session will move the conversation beyond the "pipeline problem" and into practical solutions.
Panelists
From its origins in the Bronx to a global phenomenon, hip-hop is the stuff college courses, wildly successful careers and dreams are made of. It's also what money is made of. Rap is created and enjoyed by all, and a major money-maker for a few. Given hip-hop's roots, the capitalization of rap is linked to the commercialization of brown skin. For this reason, it's hard to be a rapper and not spend a lot of time thinking about race, gender, money, power and ownership. Let's discuss.
Panelists
SXSW PanelPicker voting will close on Friday, August 25 at the very-specific 11:59 PM CT. Get your vote in before it's too late!