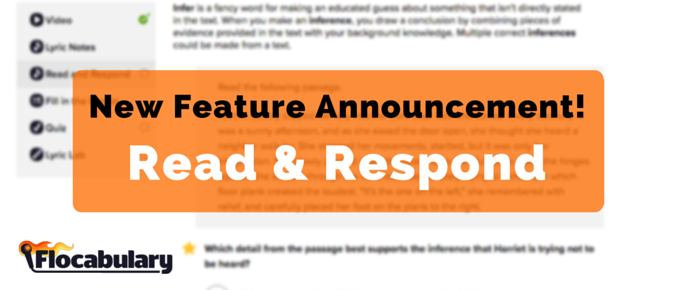 The Flocabulary team has been working diligently over the past year to bring exciting and practical new features to classrooms this fall. (Some of you may have seen a preview at ISTE!) We launched these features just this week, and to familiarize you with our shiny new Flocab, we're sharing the low-down on each of our new features on the blog.
To start, let's review our new reading feature, Read & Respond. This new addition to Flocabulary's instructional sequence empowers students to develop close reading and content area literacy skills in select Flocabulary units, and we're pretty pumped to share it with you.
How Read & Respond Works
Read & Respond provides short, assignable reading passages and practice questions that are based on content presented in the unit's video and lyrics. Students can dive deeper and think more critically about the unit's content and simultaneously practice their reading skills. Read & Respond passages are based on both fiction and non-fiction texts, and the workflow emulates a similar structure to what students will experience on high-stakes tests.  
To keep the learning experience streamlined, students answer questions right within the Flocabulary unit. Here's a glimpse of how Read & Respond works: