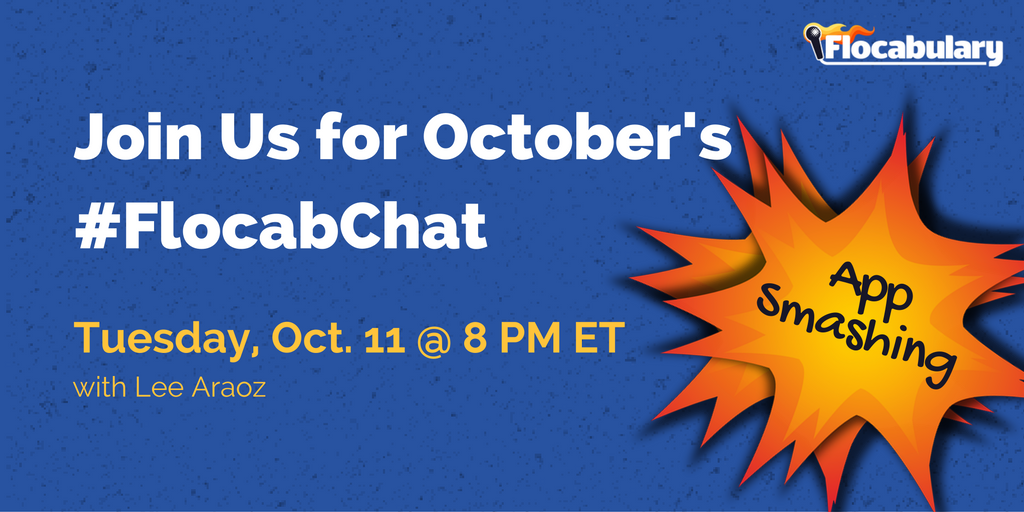 October's #FlocabChat: Let's Talk App Smashing
If you missed our inaugural #FlocabChat last month, fret not—our next chat is only a week away. We were amazed at the turnout of our first chat, with 48 participants and over 500 tweets sent. It was a whirlwind (and an awesome one at that)!
We hope you can join us for our next chat on Tuesday, October 11 at 8 PM ET! This month, we're talking about all things app smashing. There are plenty of great ed tech tools out there, but what kind of magic can we create in the classroom when we use once mutually exclusive products together?
We hear lots of great stories about teachers using Flocabulary with other tools on Twitter already, so we'll use our time together during #FlocabChat to explore these awesome ideas a little deeper.
Many thanks to our host, Instructional Coordinator Lee Araoz, for leading the discussion.
Want a glimpse at the questions? Need to schedule your answers ahead of time? Here's what we'll be discussing. We'll see you in the Twittersphere!
What is app smashing? Have you tried it? Why or why not?
How does app smashing benefit students and the learning process?
What's one of your favorite app smashes? Share it with the #FlocabChat community!
What ed tech tools have you used in connection with Flocabulary in the classroom?
How can educators smash within one ed tech tool (e.g. multiple Flocabulary units, Newsela articles etc.)?
What's one tip or trick you'd like to share with the #FlocabChat community about getting started with app smashing?
Plan to join us? Spread the word using the tweet link below!