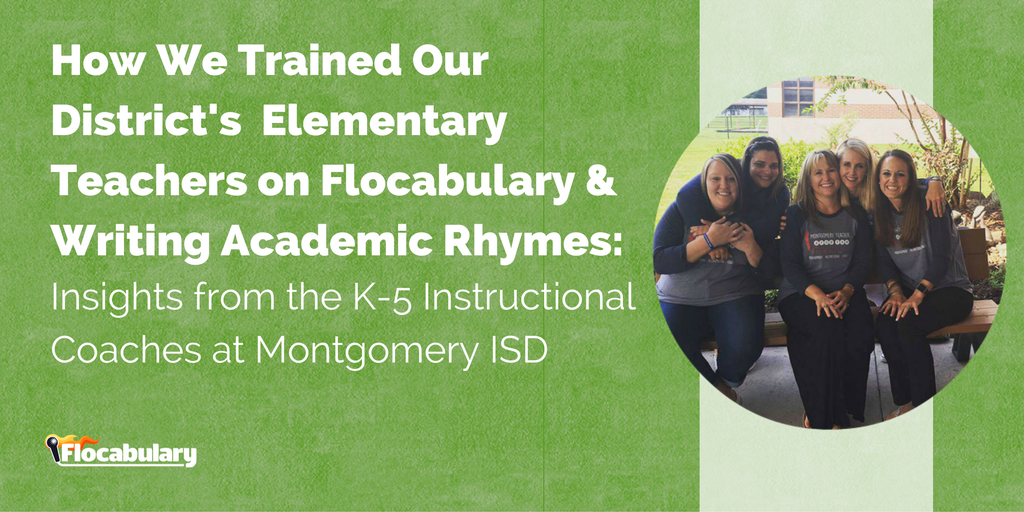 Training Teachers on Flocabulary & Academic Rhyme Writing: Insights from Montgomery ISD
Recently in Montgomery ISD, grades K-5 instructional coaches were given the task of training all teachers on how to use Flocabulary. The coaching team met to decide what approach to take with our teachers, since Flocabulary had been purchased and used by them the previous year.
It soon became clear that although some of the coaches had used Flocabulary before, no one in the group had received any formal training on the program. We decided that we would first need a webinar training from Flocabulary in order to do justice to the program. We were spot on with that decision—it was through the webinar that we were able to see that Flocabulary was much more than showing an engaging video to students.
Training Plan and Lessons Learned
After the Flocabulary training webinar, we were even more excited and eager to get this powerful tool out to the teachers and students. We decided to start the trainings with a handout that gave some background info on the goal of using Flocabulary and provided an agenda for the session.
During the first training, it became evident that showing teachers how to set up a class and have students join it at the end of the presentation was a mistake. Why? We didn't account for the one thing we never have enough of in education—time—and opted to move this important part of Flocabulary to the beginning of the presentation at all trainings going forward.   
After showing teachers how to use those two pieces in the program, we immediately moved into showing them how to find content within Flocabulary's library. Searching by standard and Flocabulary Month by Month were the two most popular options with our teachers. Once the teachers knew how to find content, the coaching team showed the various parts of the lesson cycle. Our teachers were pleasantly surprised to learn of the new features such as Pause & Play, Read & Respond, and Quizzes. Nonetheless, they were very receptive of these new features of the program and eager to get back to class to implement them.   
Experimenting with Lyric Lab
The final piece—the coaches' favorite part—was ending the training session with each grade level composing and performing their very own rap using Lyric Lab. Lyric Lab allows students an opportunity to create academic rhymes using learned content.
Teachers were shown how to use key terms, rhyme boxes, highlight unfamiliar words and find different beats in Lyric Lab. Groups of teachers practiced and then performed their raps. We even had an assistant principal compose his very own rap to dismiss his students before the Thanksgiving break. His video was an instant hit. Check out his and some of our teachers' creations below!
Having teachers play around with Lyric Lab and create their own educational rhymes gave them the opportunity to see how easy the tool is to use as well as the value of having their students do it at the end of a series of lessons to transfer their knowledge.
The highest form of learning is to be able to express understanding in your own words and Lyric Lab provides that opportunity.
Some teachers were very skeptical at first, but after the first line was written they were all engaged and creatively thinking. After the trainings, many of the teachers went back to their classrooms and started trying Lyric Lab with their students on previously taught skills.
Do you have a story about how you're using Flocabulary to increase engagement and achievement in your classroom? We want to hear it. Share your story with us!