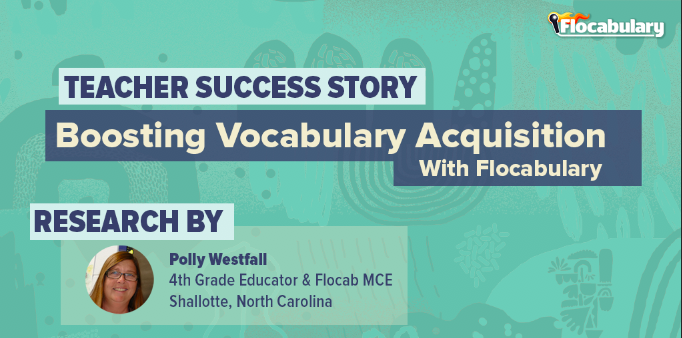 Boosting Vocabulary Acquisition with Flocabulary: A Teacher's Success Story
Two years ago, Polly Westfall, an educator in North Carolina, was accepted in the North Carolina's Governor's Teacher Network. As part of this initiative, Polly was charged with completing action research in her classroom. The topic she chose? Vocabulary acquisition for children of poverty.
At the time, Polly had recently relocated to a new school district, and was moved by the ways that poverty impacted her students. With a background as a writing coach, she wanted to find ways to motivate her students and boost their vocabulary, knowing that it would improve their writing. She decided to try out Flocabulary as the vocabulary intervention for her 4th grade class and study the impact of our resources in her classroom over the course of the year. What she found was powerful.
Highlights of Polly's Research:
Students gained an average of 82 Tier II words during the 14 weeks of the action research project.
Males and females' scores on post assessments were nearly the same, as were those of students across ethnicities.
Students' attitudes improved drastically regarding their acquisition of vocabulary words, including a noticed improvement in time on task.
We chatted with Polly to learn more about her vocabulary instruction with Flocabulary and these impressive findings.
Why is focusing on vocabulary instruction so important for your students?
As a "seasoned" teacher with over 30 years of teaching experience, I have always tried to inspire a love of writing in my classroom due to its strong connection with reading. After serving as a Writing Coach at two North Carolina schools, I realized the disparity in vocabulary between students of poverty and students who had access to quality literature. I wanted to level the playing field by exposing my students to Tier II vocabulary words they would encounter in their everyday reading. My hope was that this exposure would carry over to my students' writing.
How did you use Flocabulary over the course of your 14 weeks of research?

To establish a baseline, I pre-assessed my students with two diagnostic vocabulary screenings, the Core Vocabulary Screening created by Academic Therapy Publications in 2008 and Flocabulary's Word Up Diagnostic test. Each week on Monday morning, students would complete the pre-test provided by Flocabulary prior to viewing the video. Students graded their own pre-tests, noting the the number of words they already knew.
After an initial screening of the video, students entered each new word into their Learning Logs, using some type of graphic organizer to help them define the words and make a personal connection. We'd spend time each day Tuesday through Thursday working through activities in the Flocabulary unit to practice the words. Students took turns making up motions or dances to go with the songs. On Fridays, students were assessed with the same form as their pre-test.
Once graded, scores were recorded using a Google Form, noting the progress of each student from pre-test to post-test, and identifying each new word that was learned. Students kept the following information in their own Data Notebooks: week number, score on pre-test, score on post-test, number of new words learned, and words to continue to practice. This empowered my students to take ownership of their own learning in a very concrete way.
At the end of the 14 weeks of instruction, the same two diagnostic vocabulary screenings were used to assess mastery of the words. There was a significant difference from pre-test to post-tests in these screenings, as well.
Which findings in your research were you most impressed by?
I was the most impressed that ALL of my students were successful with Flocabulary. There was not a significant difference between males or females, students with different ethnicities, or students with access to technology at home versus those without computer access.
In fact, the only significant factor leading to lower scores was attendance at school. If a student missed Monday or missed two or more days in a week, his or her score was slightly lower than peers attending school each day. My research helped me communicate with my parents how important it was for their children to be in school daily! The mode for my students was 100%. My students were learning and retaining the words.
Based on your research, have you come up with new Flocabulary implementation practices that you're incorporating in your classroom this year? What are they?
I have more of a routine with Flocabulary this year than in my year of research. I still do the pre-tests and post-tests because I want my students to take ownership of their own vocabulary acquisition. Instead of doing different graphic organizers each week, I realized that a few were the most effective. My students' favorites are Vocabulary Word Clusters, Word Detectives, and Three Column Notes.
I also incorporate games into the review process. My students' favorite game is playing our version of "Heads Up" or "Headbands." One child holds a word card on an index card up to his or her forehead and the students give clues for the members of their group to guess. I still allow my students to make up their own motions or dances, as this is one of their favorite ways to connect to the videos (see an example below!). As the coach of the Writing Club at my school, I also have students in my class and in our club to explore writing raps and poetry about all kinds of topics.
Why do you think Flocabulary worked for your students?

I believe Flocabulary worked because it is a website with unlimited potential for improving the vocabulary acquisition of students. For my Governor's Teacher Network's project, I focused on Tier II words, but Tier III, content-rich vocabulary words are packed into the videos for all of the other subjects. As a 4th grade self-contained teacher, Flocabulary is one of my favorite, go-to resources to help students learn new concepts because I know they will not only learn the words temporarily, but instead, they will retain the words in their storehouse for writing.
A year after completing my project, a local newspaper interviewed my students asking how they felt about Flocabulary. Huge smiles came to their faces as they shared their responses. "It's extraordinary," stated Mikal, which happened to be one of the words from the very first list from Flocabulary's Word Up Orange. He then grinned and rattled off the entire rap that was the chorus for a video called "The Parrot." A year later, he remembered every word. That was impressive!