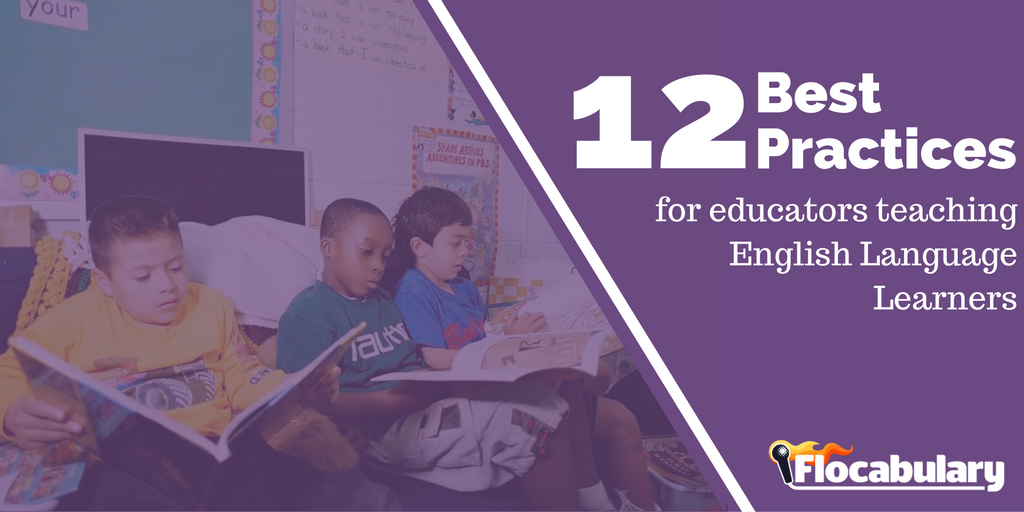 12 Best Practices for Educators in the ELL Classroom
Did you know that the National Center for Education Statistics found that English Language Learners (ELLs) account for 9.3% of the US student population? That's 4.5 million students!
We hear from many teachers of ELLs that our product is a great fit for their classrooms. We love that, and we are acutely aware of the growing needs of ELLs and their teachers who support them in their academic careers—which is why we are thrilled to be among the winners of the NewSchools Venture Fund Ignite English Language Learning Challenge.
It's a bit of a mouthful, but this grant will enable us to build, grow and test upcoming ELL features with experts and educators, and we couldn't be more excited.
Members of the Flocabulary team recently met with teachers to learn how they create welcoming and engaging classrooms for their ELL students. We want to share their advice with the Flocab community in hopes that you'll have a tip or two to take back to your classroom. (And from compiling this list and thinking about many different types of teachers we support, it seems like these are suggestions that could work for all types of classrooms and learners, too!)
Preview & Pre-teach Content
Give students access to content the night before (e.g., a video or reading), with instructions on things to look for, so they aren't seeing it for the first time in class.
Act It Out!
When explaining something, act it out! Sing, gesture or draw when teaching something new.
Provide Written Instructions (with Images)
In addition to verbal instructions, provide a written version, too—with images!—so students can refer to it if the verbal instructions were too fast or challenging. Make these instructions available throughout a lesson.
Model Activities
Instead of just giving instructions, model activities and processes. Try the "I do, We do, You do" model where there is a gradual release of accountability to the student.
Continuously Check for Understanding
Consistently check for understanding through practices like polling the class, or asking for a thumbs up or down in response to an opinion.
Define & Explain Vocabulary
Vocabulary words should be defined explicitly, and explained before students encounter them in text.
Repetition, Repetition, Repetition
Equally important as previewing and pre-teaching, review and re-teach as well! Find ways to "recycle" words and concepts from one lesson into another. This can be within one subject, or cross-curricular as well.
Group Work & Facilitating Discussions
Social Interaction as a Daily Occurence
Small group work happens a lot in ELL classrooms, so social interaction and discussion as part of the learning process is really important. Try to build it into every lesson.
Turn & Talk
Have students explain to a classmate what their teacher or peer said using "turn and talk" activities; this will help develop both their conversational skills and ensure they understand the text, instructions or talking points.
Let Them Answer in a Native Language
Allow students to answer questions or participate in a class discussion with their first language, and then in English (if it is helpful).
Give Them Time
When facilitating discussions or evaluations, give ELL students a longer time to respond to questions.
Provide Sentence Frames
Provide students with "sentence frames" to help them initiate discussion with others. (e.g. "I agree with ____ because _____.")
We're pumped for what 2017 will bring to Flocabulary's ELL users. Stay tuned for more updates from us in the coming months.